In 2018 Rich, a long time friend of Joels and supporter of the annual AED fundraisers, wondered why if AED's were so important, why were they not available everywhere. Rich also wondered why if most cardiac arrests happened in the home area, why were AEDs not in all neighborhoods.
Around this time, Joel mentioned to Rich that there were 3 AED's funded through the golf tournament that hadn't been placed yet.
Rich began doing some research and discovered that there was also a grant available to assist nonprofits place AED's in Central Minnesota. This grant was made available through CentraCare's Heart Foundation. This is when he also came across a news article about 8 AED's being placed outdoors in Ohio parks so that they were fully accessible year round.
He decided to approach CentraCare to see how they could work together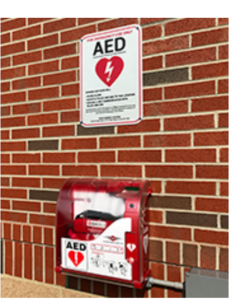 The Centerville-Washington Park District teamed up with youth athletic organizations in the community to provide AED (automated external defibrillators) stations for public use in eight community parks 365 days a year. This is the first installation of its kind in Ohio.